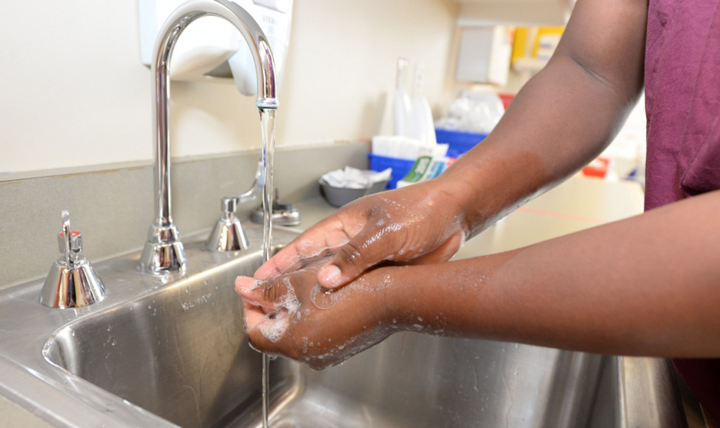 What is hand hygiene?
Hand hygiene refers to the use of hand washing with soap and water or alcohol hand sanitizer (60% alcohol or greater) in order to reduce infection rates, reduce transmission of antimicrobial resistant organisms and stop outbreaks of communicable disease.
Why is hand hygiene important?
Clean hands are the single most important factor to prevent the spread of infections in healthcare settings.
Hand hygiene reduces the incidence of healthcare-associated infections.
Hand hygiene protects healthcare workers from acquiring diseases from their patients.
The use of gloves does not eliminate the need for hand hygiene; hand contamination can occur through microscopic breaks in gloves.
When should I use hand hygiene?
When starting work and before leaving work.
After sneezing, coughing or nose-blowing.
When entering or leaving exam/treatment rooms or moving away from patient "zone."
Between all patient contacts.
Between clean and dirty steps of a procedure to prevent cross-contamination.
Just prior to setting up supplies for a procedures.
Before putting gloves on and after removing gloves.
After using the restroom (must wash with soap and water).
When hands are soiled or feel dirty (must wash with soap and water).
After being exposed to/cleaning up stool (must wash with soap and water).
How do I wash my hands with soap and water?
Wet hands with warm running water.
Apply soap.
Rub hands together for 15 to 20 seconds. Cover all surfaces of the hands and fingers, including fingernails, thumbs and wrists.
Rinse hands thoroughly.
Dry hands with a clean paper towel or air dryer.
Use paper towel to turn off water faucet, if possible.
Dispose of paper towel in a waste receptacle.
How do I use 60% or greater alcohol-based hand sanitizer?
Place a quarter-sized amount of the sanitizer in palm of hand.
Rub palms together. Use enough sanitizer to saturate all surfaces of your hands and wrists, until your hands are dry.
Remember
Healthcare personnel who have direct contact with patients should:
Minimize the wearing of hand and wrist jewelry.
Avoid wearing artificial nails or nail enhancements. Keep natural nails less than one quarter of an inch long.
Hand sanitizer does not kill all viruses or bacteria. It does not kill norviruses or difficile.