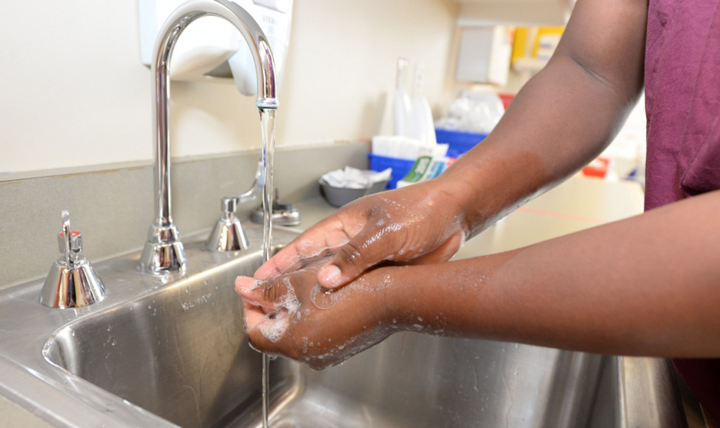 Requested actions
Be aware, the first cases of monkeypox virus (MPV) in cisgender adult females and an adolescent under the age of 18 were reported in Washington State. Clinicians should suspect Monkeypox virus infection in any patient presenting with one or more lesions that suggest monkeypox infection, regardless of the patient's age, social history, gender, or sexual identity.
Options for testing patients for MPV continue to expand to several commercial laboratories, as well as the Washington State Public Health Laboratories (PHL). Specimen collection guidance has been updated for submitting to PHL, please contact us for more information.
JYNNEOS vaccine for MPV
The Jynneos vaccine is originally developed for use against smallpox but is being used at this time to contain the monkeypox outbreak.
This vaccine is delivered as a two-dose series, 28 days apart. It can be administered either subcutaneously or intradermally. It is FDA approved for subcutaneous administration in people 18 years of age and older. It is also authorized by EUA for Intradermal administration in people 18 years of age and older, and by subcutaneous administration in people under 18 years of age.
This allocation is limited and variable in timing and amount. As such, we are using self-reporting criteria to prioritize access to vaccine. Per WA DOH, individuals are eligible if they have a high-risk exposure to a patient diagnosed with Monkeypox, OR if they meet both of the criteria below:


Gay, bisexual, or other person born male who has had sexual contact with another person born male, or trans or non-cisgender people (regardless of sex at birth) who have sex with people who identify as gay, bi, or otherwise MSM in the past 3 months, and
At least one of the following risk criteria:

Experiencing homelessness/unstable housing (including living in a shelter, car, or congregate setting; living with friends or relatives; couch surfing) in the last 3 months
Being incarcerated currently or in the last 3 months
Exchanging sex for money, drugs, or other purposes in the last 3 months
Black, Hispanic/Latinx, Native Hawaiian and Other Pacific Islanders, Asian, Indigenous, or American Indian/Alaska Native
Breakthrough cases have been reported in vaccinated individuals. Please counsel your patients accordingly.
Our allocation is dependent on utilization, so it is imperative that clinics use the entire supply of vaccine quickly, if you identify persons in your practice who meet the criteria for immunization, please contact us at immunizations@co.whatcom.wa.us to arrange a vaccine transfer or discuss other options.
Tecovirimat treatment for MPV
Tecovirimat (TPOXX) is an oral medication available for use in the current monkeypox outbreak.
Because this medication is limited, it has the following high-risk criteria for access:

Severe disease (e.g., hemorrhagic complications, sepsis, encephalitis, hospitalization)
Immunocompromise
Children younger than 8 years of age
Pregnant or breast-feeding women
People with atopic dermatitis or other exfoliative skin conditions
Involvement of areas that might constitute a special hazard (e.g., eyes, mouth, genitals, anus)

This medication is dispensed as a 14-day course, to be taken twice daily.
There is currently no FDA approved treatment for MPV. Tecovirimat is only approved for smallpox. Animal studies have shown that it is effective in treating orthopoxvirus-induced disease. A case report from the UK suggest tecovirimat might shorten duration of illness and of viral shedding. Human clinical trials indicate it's safe and tolerable with only minor side effects. Randomized controlled trials in humans are underway to further assess safety and efficacy.
Tecovirimat is available as part of an Expanded Access Investigational New Drug protocol. Access to the medication requires signed consent prior to dispensing, and will require submission of an IND form to the FDA. These forms can be accessed at the CDC tecovirimat page.
Contact us at CommunicableDisease@co.whatcom.wa.us or call 360-778-6150 and leave a message (this email and phone line are checked M-F from 8am-4:30pm). For after hours and weekends contact after hours answering service 360-715-2588.
For urgent clinical situations after hours, providers may contact the CDC Emergency Operations Center (770-488-7100) for clinical consultation on patient cases.
Treatment with TPOXX can begin upon receipt of the medication and after obtaining informed consent.
Additional Information
Contacting the Health Department
360-778-6100 Main Call Line – available M-F 8:30am to 4:30pm
360-715-2588 Afterhours Answering Service – available after 4:30pm and weekends
360-778-6150 Communicable Disease Report Line – 24 hours a day 7 days a week
360-778-6103 Confidential Communicable Disease Fax – 24 hours a day 7 days a week
1500 N State Street, Bellingham WA 98225